Posted by Admin on 25th Nov 2017
The live-edge origins date back to early rustic furnishings. It was the wood that was fundamentally unsuitable for conventional cabinetmaking at the time. Leftovers from the mills after the more accepted wood had been sold. These leftovers would be used to make rudimentary furniture with little attention being paid to the finish.
From those simple beginnings live-edge furniture has developed, and is now very much its own style. It seems that during the later 1940's live edge started to be used in real cabinetmaking and started to make an impact on the established furniture markets.
George Nakashima, in 1946 developed a line of natural edged furniture for a major outlet exposing the style to a large audience. Incorporating burls, gaps, knots and visible butterfly joints the blend of natural look and craftsmanship became a very attractive and distinct style, Live-edge had come of age.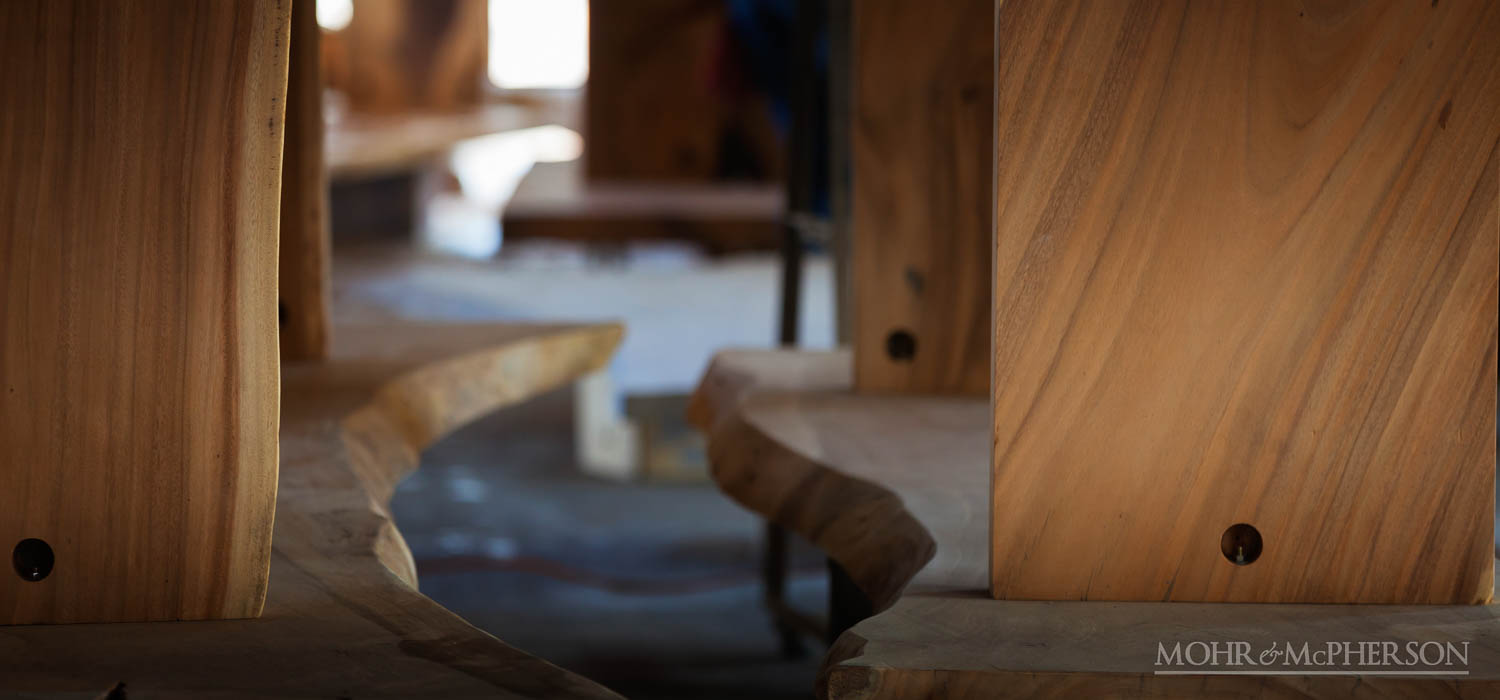 A number of special technics have developed over the years for working live edge furniture, pending wood type, intended use and the woods structure. What we will be focusing on here will be the live edge tables.
Defined as tables that maintain the natural woods sides they may also show voids, gaps, roots, butterfly joints and in some cases even bark.
The tables of today maintain that natural beauty of lines and form with an added level of high finish and quality. Each table is distinct, beautifully individual and a functional eye-catching addition to any home or office.

The origin and beginnings of our live edge tables.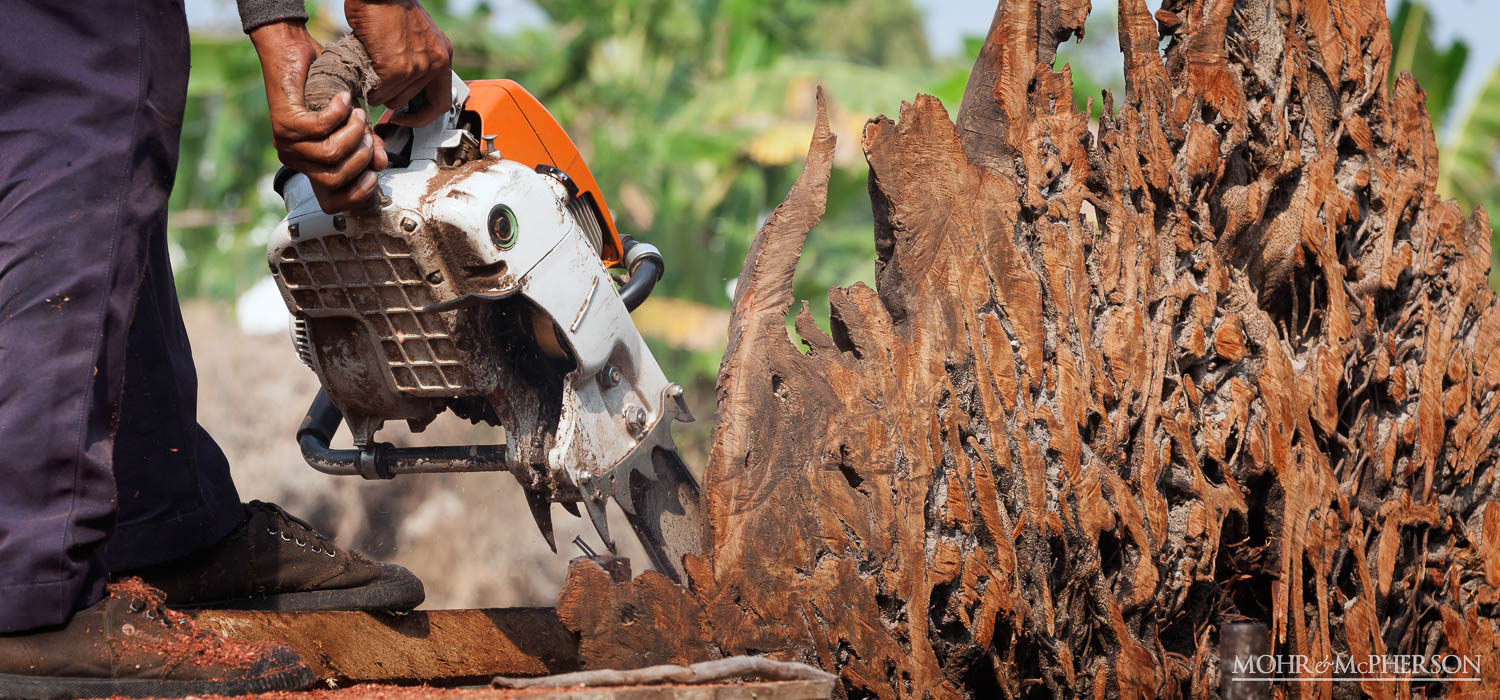 Here we travel to northwest Thailand, the birth place of many of our tables, a region that has established and maintains traditional skills and crafts in live edge table construction. While many of the methods and work environments used in this region my not be familiar to many western eye's, the skill of the craftsmen here is without doubt.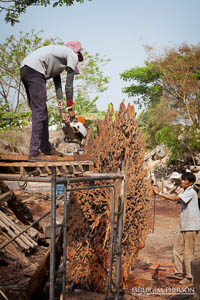 The chainsaw users have some of the finest skills imaginable. Working with visual guides only they somehow cut with precision to deliver a very straight edge. Sometimes as in the image on the right large root structures like this Lychee root need great care and precision to avoid damage. Wood loss due to inaccurate cutting is incredablly minimal.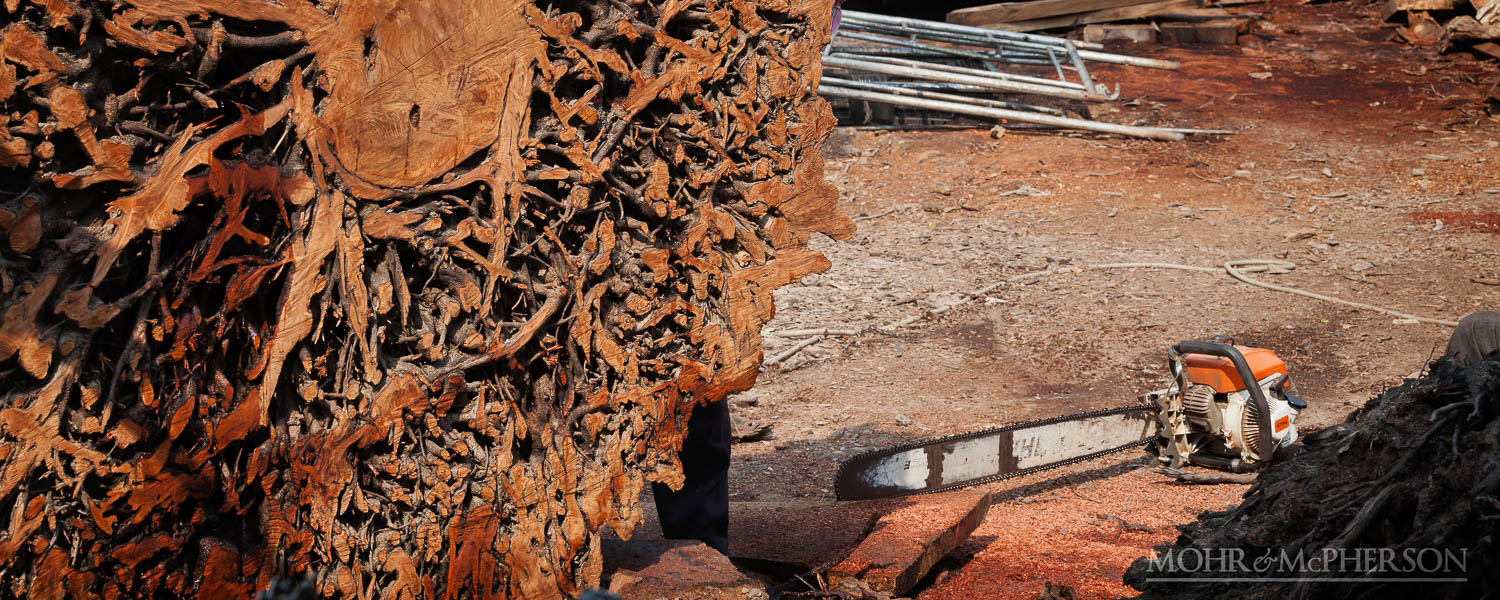 Grading
Once the initial cutting and drying is finished, the wood makes it's way to grading.
Here the shape, grain and size are assessed and selected pieces go through to be made into tabletops, legs or other items. Table sizing and initial leg cuts are done during this assessment.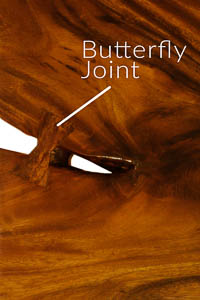 .
Certain tabletops that contain voids, natural openings within the wood, are put aside at this stage to go for butterfly jointing.
The technic of butterfly joints reduces the risk of movement at susceptible areas like these natural voids.
The wood used for the joint is of the same type at the table, ensuring a match of grain density and color. These openings in the wood are far from being avoided. They can add a beautiful interest to the table design and add greatly to the tables impact. Many of the tables at Mohr & McPherson contain these voids.
.
Follow us so you don't miss part-2 of "Live Edge Tables".
Part-2 follows the tables as they get sanded and prepped for finishing. The quality control by Mohr & McPherson and the individual selection of every table for our customers.